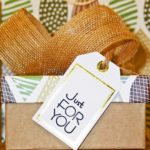 Do you need help finding the perfect gift for someone special?
Do you have corporate clients you want to dazzle?
Then you need Gift the Unexpected as your personal gift shopper!
Let us come up with unexpected and unique ideas to satisfy all your gift giving needs! Answer a few questions and we will scour the earth for the right gift. Know what gift you want to give but don't have the time to get it? Consider it handled!
We do the work. You get the credit!
For more information about our services, please fill out the contact information below.