Do you find gift cards too plain or impersonal? Read on to learn how to dress up gift cards in a fun and easy way with things you have around your house!
Teachers are amazing. That's just a fact. My two sons' preschool teachers go above and beyond on a daily basis, particularly in 2020 during the pandemic.
I was blessed that our schools were able to open during a time when most could not. And to ensure that the county did not shut them down, our teachers took every necessary precaution and paid particular attention to detail to keeping the kids clean and sanitized. This included separate workstations, toys, books, etc.
During the course of the school year the parents put together a thank you breakfast, we donated books and cleaning supplies, and one parent even volunteered his time in the morning to help with the drop-offs, which of course now took more time with taking of temperatures and checking forms affirming the kids were not sick.
But, when the end of year rolled around, I wanted to make sure I properly thanked our sons' classroom teachers and helpers for their time and commitment to adhere to strict protocols ensuring the school stayed open and the children stayed healthy.
There's never enough time to put together the right thank you gift!
I really like to go all out if I can with this teacher appreciation gifts. But before the holidays when it's time to give my kids' teachers some love, I always feel like I'm scrambling.
A couple of times I was able to get my act together.
One year I made chocolate dipped pretzels with all the fixings – nuts, sprinkles, peppermint. They were so incredibly good (yes I snuck a few in!). I delivered them in a cute cardboard box that I stamped up with the words "Thank You."
Another year, I put together a relaxing themed gift that included bath soaps, salts and sprays.
But most years, I come up with grandiose plans. Then I realize the next day is the last day before winter break or the end of the school year – and I have nothing!
And 2020 was no different. End of the year had me wrapping up projects at work to get ready for a stay-at-home winter break. But even though 2020 was a rough year (to say the least!), I was not going to fall behind on my gifting duties.
So I planned out (last minute of course) a gift I could quickly put together – Target gift cards!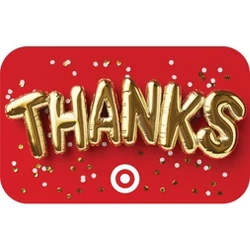 During COVID-19 times, gift cards are wonderful gifts for teachers and something they can use.
Are you asking yourself why am I reading a blog post about gifting gift cards?
So I'm not a fan of gift cards – ever. Don't get me wrong, I love receiving (and spending!) gift cards, but when it comes to gifting, I find gift cards impersonal. When gifting, I love the hunt of finding the perfect gift for my friends, family or clients – and hearing, "How did you know I wanted this?!?"
But let's get real. We don't always have time (or patience) for the glorious gift hunt. Or we don't know the person well enough to pick the right gift. For example, the year I bought bath soaps, I didn't once think about what if our son's teacher had a sensitivity to certain smells or even allergies?
So gift cards are great, because the giftee can buy something he or she can use and likes (and avoid any allergic reactions!).
After researching (i.e. Googling), I found various articles, like this one from Money, about gifting gift cards to teachers. It seems that sometimes the best gift to give teachers are gift cards, especially during the pandemic. Teachers, because they are just amazing human beings, tend to use those gifts cards to buy things for the classroom, which is why Amazon or Target are usually preferred. But other options like Starbucks are also appreciated, because let's face it – these teachers have to deal with our kids all day long!
Check out this reddit post to hear from teachers themselves.
But if I'm doing gift cards, then I am going to dress them up! So that's what I did with stuff I already had.
How do you dress up gift cards – coffee mugs!
First – I needed something to hold the gift cards. And while gift boxes are cool, I wanted to do something different or, dare I say, unexpected. So I walked around my house and realized I had these new Nespresso coffee cups that I was never going to use and two Lily Pulitzer coffee mugs from my FabFitFun box that I LOVED, but my husband not so much.
So I thought, what if I put the Target gift cards in the cups, and decorate them to look like a cappuccino or a latte?
I searched Amazon and found this beautiful silk brown ombre scarf! PERFECT! I thought, I will just hide the gift card in the scarf and fill the cup with the scarf – and voila, a perfectly impersonated cappuccino!
But, between the pandemic and scaled back postal service staffing, I could not count on timely shipping. Remember, this was a planned LAST MINUTE gift!
So I shopped the almighty trifecta: Home Goods, Marshalls and TJ Maxx. Even though I found a ton of stuff to buy for myself, I could not find the right item to stuff my coffee cups!
I looked for scarves, but everything was too big to fit in the coffee mugs. Then I thought, what about socks, or an eye mask, gloves – something! But nothing was just quite right.
Tissue paper and candy canes for the win!
Left with Target gift cards and some coffee mugs, I went home and scoured my craft area for something. I found red and white tissue paper, holiday gift tags and golden ribbon. Then a lightbulb went off !
I decided to fill the clear coffee cups with red and white tissue paper to give the cups a peppermint mocha look.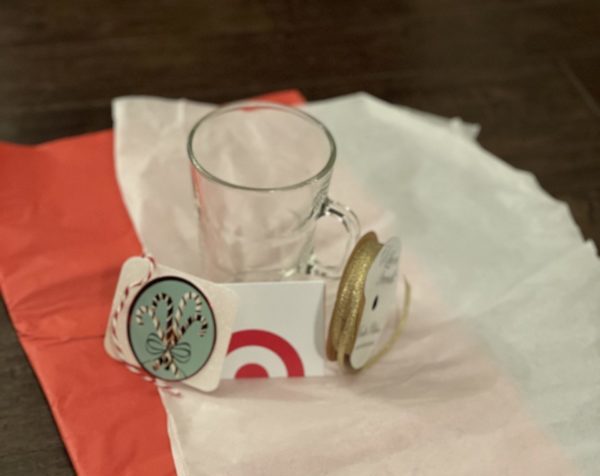 I cut the tissue paper into long pieces and scrunched and twisted it to give it that crinkle look. To do this, I folded up one piece of standard sized tissue paper until it was about 1 or 2 inches in width. I then cut the tissue into slices.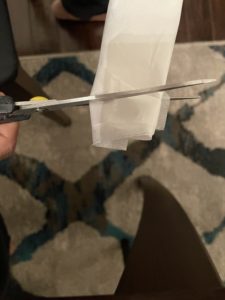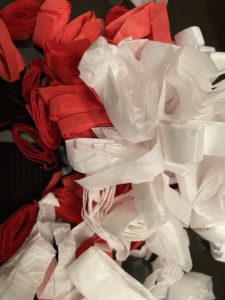 I filled the cups to the brim with the tissue paper, getting a good mix of red and white in there. I hid the Target gift card in the middle of the tissue pieces.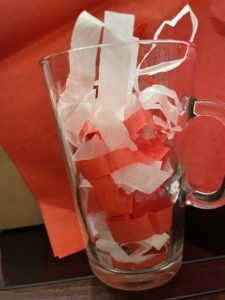 Since the Nespresso coffee mugs were clear, I decided to wrap golden ribbon around the middle to add a little sparkle and a peppermint candy cane – because why not?!?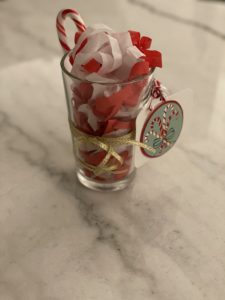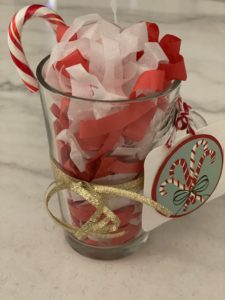 The Lily Pulitzer mugs were so ornate and beautiful, I did not want to take away from the design. Lucky me, I had royal blue and gold tissue crinkle threads that looked divine. I similarly stuffed the cups to the brim, to make the cups runneth over.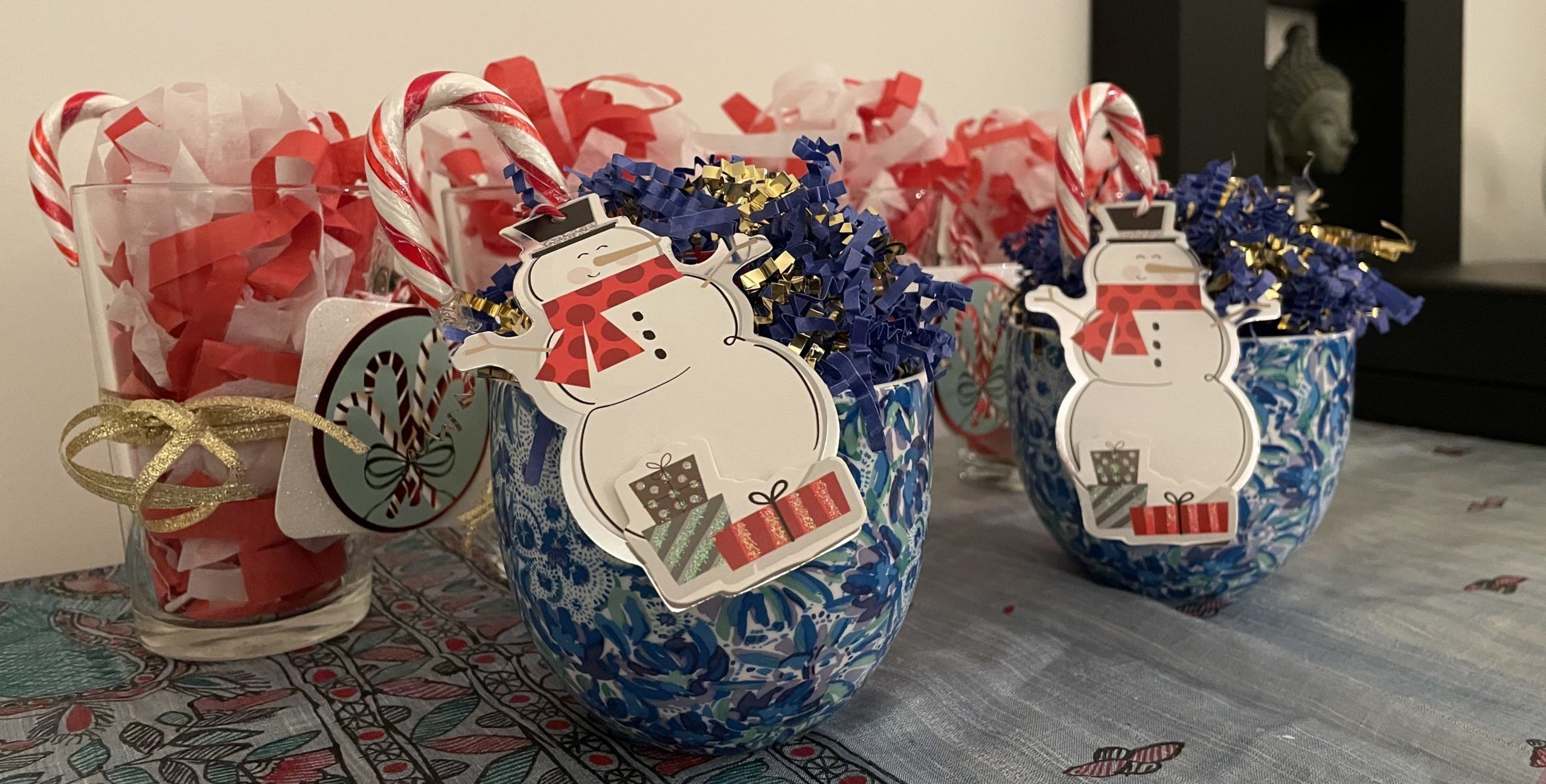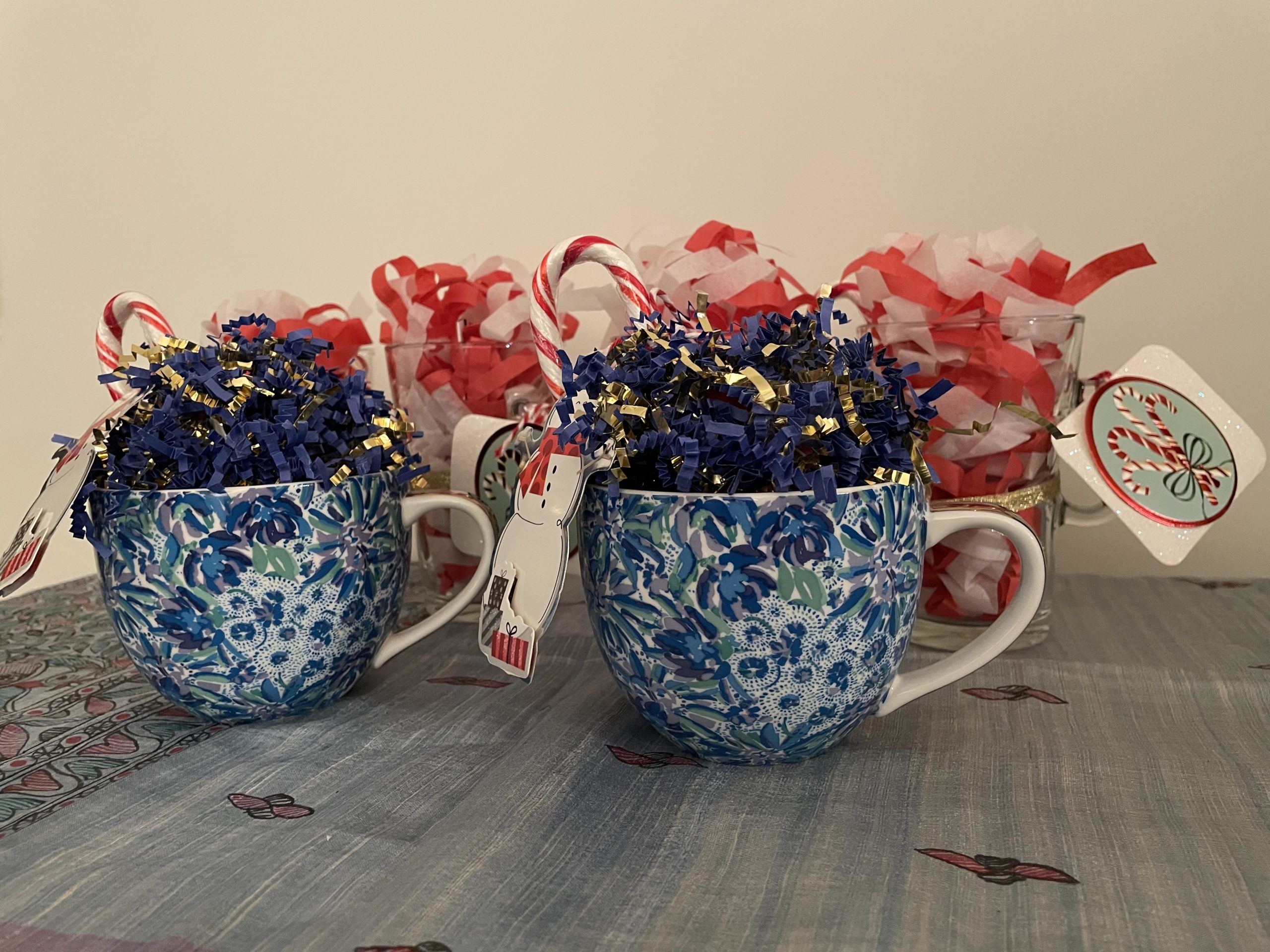 Final Thoughts
I really was amazed with how beautiful the gifts came out. The last minute gifts looked delicious! And these unexpected thank you gifts were well received by our teachers! I hope this post helps inspire you to take your gift card giving to the next level! So next time you are giving a gift card, have some fun and try to dress it up with things available right in your home.
And, Gift the Unexpected.