Now more than ever we need to provide the necessary tools for our children to navigate the financial world. In my blog post Why You Should Gift Financial Literacy (Yes It's a Thing!), I discussed the importance of financial literacy and how it could be an important tool for leveling the playing field and preparing our kids to withstand an uncertain future.
Imparting financial know-how to the kids in your life will help them put their right financial foot forward. Below are some fun ways to teach kids about money for all age ranges from Pre-K to high school. Before you say pre-k is too young, Moana Whipple, a financial associate with Natural Bridges Financial Advisors, recently told Bankrate.com "even toddlers can understand the concept of a budget." In the current world status of COVID-19 lockdowns and with everyone in their pods, I focused on items you can find on Amazon to help with ease of shopping and shipping.
Hi there! Thank you for visiting my blog! This post may contain affiliate/referral links, which means I'll receive a commission if you purchase through my link, at no extra cost to you. Please read the full disclosure here.
1. BOARD GAMES
Board games are a fun way to secretly teach kids about money without the dryness of a lecture. And the whole family can join in on the action. So if you read my post about financial literacy, you already know I highly recommend Monopoly or Monopoly Jr. But there are other games from our childhood that are great to gift the next generation, such as Pay Day for the older kids or Allowance for the younger ones.
Since Dave Ramsey's 7 baby steps to financial freedom worked for me, I researched how I could incorporate some of his methods for my kid. Come to find out, he has two kid games, Financial Peace Junior Kit for ages 5 and up and Act Your Wage for ages 10 and up.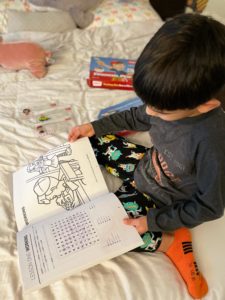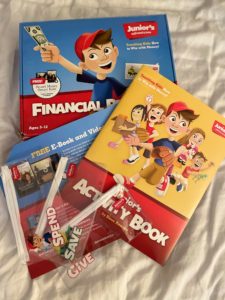 I bought the Junior Kit for my son and he loved it. There are activities and challenges. It even comes with little plastic envelopes so he can learn to Save, Spend and Share. It really made him think about money differently. He was counting his birthday money over and over, dividing it up into different ways in his envelopes. Sorry to gush, but it was so cute!
2. BOOKS ABOUT MONEY
Books are a two-fold gift: helping with reading and learning about money! Double whammy! There are plenty of options in this category of gifts. So because I researched and used Dave Ramsey, I note that he created a storybook set for Junior Adventures, which is appropriate for ages 3 to 10. The set comes with 6 books and covers the topic of money in a fun and relatable way. This is in my Amazon cart now as a gift for my son. I will update this post with his reaction soon!
There is also this amazing book called Finance 101 for Kids. It's for the age range of 8 to 12 and has 5-star reviews on Amazon, which I don't see often. It covers different currencies, the stock market, and how to earn money. Truly amazing. And if you are looking for a storybook, check out If You Made a Million, which is recommended for ages 4 to 8. This book teaches kids about earning money, investing it, accruing dividends and interest, and watching savings grow through a wonderful story about a magician.
If you are gifting to a 10 to 14-year-old, I recommend How to Turn $100 into $1,000,000: Earn! Save! Invest! This informative book breaks the financial knowledge into three parts: Make It, Save It, and Grow It. You could couple your gift with Investing for Kids, How to Save, Invest and Grow Money. This is a newly published book for 8 to 12-year-olds that is so good, and it's even recommended for adults!
Another book I think worth mentioning is The Motley Fool Investment Guide for Teens: 8 Steps to Having More Money Than Your Parents Ever Dreamed Of. The guide is designed for high schoolers, ages 13 to 17-year-olds, and is created by the creators of The Motley Fool, a financial and investing advice company in business since 1993. This is a great gift for someone starting high school since the book discusses saving and investing for college.
Another book for the high school crowd is The Money Club: A Teenage Guide to Financial Literacy and its companion workbook. I can not wait to gift this to my sons. What I love most about this book is that it's based on a true story about how a teacher's encounter with a student in her classroom empowered her to change the way financial literacy was taught in her high school. This book uses that story to teach the basics of money management to teenagers. A wonderful gift for young adults who are entering into their first workforce experience and don't know what to do with that paycheck (or what FICA is!).
3. THE NEW PIGGY BANKS
What's so new about a piggy bank? Well, when I think piggy bank, I think of cartoons I grew up on that showed some kid taking a hammer to a ceramic pig to save the day with their savings. But the new piggy banks help kids envision their money in three ways – Saving, Spending, and Sharing (and one even has a part for investing!). Some even come with a book to document the money being saved, spent, and shared.
There are also Piggy Bank 2.0, with digital counters, ATM-like banks, and so much more. Below are some recommended options for your kiddos. As an aside, this is a great add-on gift to a book above and some cash inside the bank.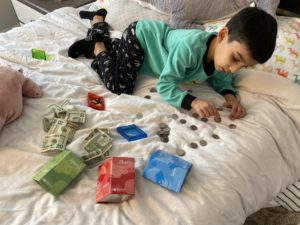 On a personal note, I purchased the Moonjar bank for my son. That's him counting his money. I liked the design and the rubber band it came with to keep it together. The simple things. Bottom-line they all work the same. When trying to figure which one to get, think about the type of personality you are working with – a kid who likes clean lines may like the first two options. A lego lover may like the building blocks bank. An electronic fan may like the ATM or digital piggy bank.
4. STOCK SHARES
Remember Nina Carr from my previous post Why You Should Gift Financial Literacy (Yes It's a Thing!)? Let her be your inspiration here. While we will not all have a GameStop experience, buying a child a share of stock and coupling that with teaching about the stock market, is a great way to impart financial knowledge to the next generation. And even in a digital world, you can still gift something tangible. Give a Share is a website you can buy a single share of stock, and get a framed stock share certificate to gift.
Another easy way to gift investment to a child is opening up a custodial account through an investment company like Vanguard. You can deposit money into the account for every celebration – birthdays, graduations, first words, first crush, first heartbreak. Whatever you want! And as the child grows, you can show them the ropes, and the child can choose how to invest the money. Custodial accounts are a great alternative to 529 college plans because once the child reaches the age of majority, the assets can be used by the child for any purpose.
If you want to gift a stock share of one of the top S&P 500 companies to the kid in your life, but the price of one stock share is over your budget, consider fractional shares. More forward-thinking investment apps or sites, like Robinhood and M1 Finance, and even brokerage firms like TD Ameritrade and Fidelity, allow you to buy a part of a share versus the whole share.
By choosing fractional shares, you can invest in a stock like Amazon, whose stock price at the time of this post was over $3,000. Rather than shelling out $3,000 for one share, you could start a small portfolio of $3,000 invested in a slew of stocks by purchasing fractional shares of the big named stocks. To do this, you could use the Stockpile app which allows you to give a gift card that can be redeemed for stock ownership. The app lets parents set up a custodial account for children under the age of 18 and allows fractional shares.
BONUS GIFT IDEA:

Recently, a brother and sister pair started their own business, Stock Up Kids, which offers both a Basic and Advanced online course for kids to learn about stocks and investing. After learning the basics from their parents, Kali, 12, and Spirit, 11, further educated themselves on investing in the stock market. And all that knowledge has landed them in the top percentage of traders in the world. In a recent interview Kali said "It's kind of cool knowing you do something really well that some adults don't know how to do." These two inspiring kids started Stock Up Kids, which they say is the solution for breaking the cycle of poverty and despair. They describe the courses as interactive textbooks, featuring pre-recorded videos, quizzes, and projects.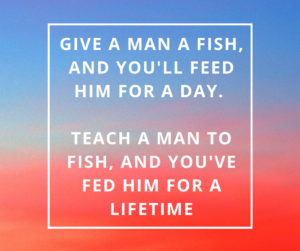 5. LEMONADE STAND
My 6-year-old son is constantly saying "let's buy this" or "let's but that." And my response is always the same – "Sure when you make money, you can buy whatever you want." But he doesn't understand what that means. Sure, he gets money when he does chores, but the concept of work is still lost on him.
He's 6, right? But I watch shows like Shark Tank and see all these entrepreneur kids who have built businesses before they turn 10. And then I realized my mistake – I didn't teach him the importance of and how to make money. So while I started the first part – using Piggy Bank 2.0, teaching him how to donate his money – I have not taught him how to make money. What better way to do that than a [insert product of choice] stand! It could be lemonade, food, or something else!
So in that vein, I recommend gifting a market stand to help develop their entrepreneur side. The Melissa & Doug Lemonade Stand is a bit on the expensive side and hefty in weight. But it is really cute and functional with the baskets. Also, it doubles as a pretend-play toy for home. The HIDEABOO – Lil' Biz Polyester Easy Lemonade Stand Card Table Cover is so functional. It's simply a table cover with a pocket in the front to put your sign or price. It's easy to set up and washable. However, it is limiting in that it's just for lemonade.
The Beka Wooden/Lemonade Stand is made in the USA and contains chalkboard surfaces all around. This is a versatile stand that could be used all year round – lemonade in the summer and hot cocoa in the winter. The Birthday Express Cardboard Lemonade Stand is perfect for little ones, but keep in mind it's made out of cardboard. This means it's lightweight (so be careful on windy days) and not able to hold weight. With this option, I recommend using it as a decoration in front of a small card table.
Alternatively, if you don't want to gift the market stand, why not gift the materials? You could get the Lemonade Windless Full Sleeve Banner Swooper Flag to help kids attract customers, the lemonade mix (or hot cocoa, brownies), cups, sugar, etc. And pair all that up with the Kids Business Start-Up Kit for Young Entrepreneurs. It teaches entrepreneurship concepts like goal setting, customer service & return on investment and includes 12 reusable straws for them to sell. This could be an up-sell for the lemonade stand!
FINAL THOUGHTS
There are so many different ideas and ways you can gift financial literacy to the kids in your life and at different stages. And while I know some of the above gifts may not be on their wish list, they are gifts that will provide life-long lessons they can implement immediately. And if you want to make it fun, add cash to the gift either as seed money for a business or to start their investment journey.
Please keep in mind the information I provided above is solely based on my personal experience and research. Since I am not a personal financial advisor, I recommend you do your own research or talk to a financial advisor.
If you need ideas on how to gift financial literacy as a college graduation gift, check out my post 4 College Graduation Gifts That Teach Financial Literacy.
I truly hope this post inspired your gifting needs on this important topic. So, next time a birthday rolls around, think about gifting something to teach them how to make that birthday cash into so much more.
And, Gift the Unexpected.